There is no law for every crime that is committed, that could help to lift it to our consciousness!
Klaus Schrefler ~ KaRaSu - Artist, scientist and visionary philosopher - Born in 1969 in Linz the artist studied biology and technical chemistry at the University of Graz focussing on integration of visual media in natural sciences, [MSc. PhD]. In the arts he formerly worked on the fields of dark sides of mankind: war, violence, racism and their origin. Since 2001 light as both an antagonistic and integrative completing element to that is his favorite thematic, ultimately the power of sun as a transformative source of energy; also seen from a symbolical point of view - basic consensus on humanism, human rights and respect for nature!
His works include photography, computeranimation, installative performance in combination with visual media and recently he works on international transdisziplinary projects integrating diverse disciplines in allover performance-media art projects. Schrefler, who is freelance as an external professor at the university of Graz and as scientific collaborator of the Joanneum Research, Inst. f. Digital Image Processing, did several integrative art projects in a bunch of different countries. His artistic outputs may all be seen as visual fine arts related, but always integrate several other art disciplines such as music and performance and thus perform in a holistic way.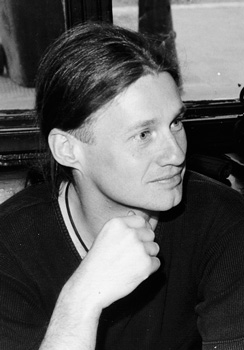 Es gibt kein Gesetz für jedes Verbrechen, das begangen wird, das helfen könnte, es uns bewusst zu machen!
Klaus Schrefler ~ KaRaSu - Künstler, Wissenschafter und Visionär- Der 1969 in Linz geborene Künstler studierte Biologie und Techn. Chemie in Graz mit Schwerpunkt im Einsatzbereich neuer visueller Medien, [Mag. Dr. rer. nat.]. Künstlerisch befasst er sich zunächst sowohl mit den Schattenseiten des menschlichen Daseins: Krieg, Gewalt und Rassismus und deren Hintergründen. als auch mit den Lichtseiten, respektive der Energie der Sonne als Quelle aller Transformation - was durchaus auch symbolisch zu verstehen ist - Grundkonsens Humanismus, Menschenrechte und Respekt vor der Natur!
Vom technischen Standpunkt aus gesehen umfassen seine Arbeiten Fotografie, Computeranimation, installative Performances in Kombination mit visuellen Medien und in jüngerer Zeit mehr und mehr internationale transdisziplinäre Werke unter Einbindung von Künstlern unterschiedlichster Sparten. Schrefler, der nebenbei auch als als Lehrbeauftragter an der Universität Graz und projektbezogen als freier wissenschaftlicher Mitarbeiter der Joanneum Research Ges.m.b.H., Inst. f. Digitale Bildverarbeitung arbeitet, hat in den vergangenen Jahren mehrere integrative Projekte in verschiedenen Ländern verwirklicht, die zwar vorrangig den visuellen Künsten zuzuordnen sind, aber stets auf die Einbindung anderer Disziplinen Wert legen. Solcherart enstehen holistische Gesamtkunstwerke mit Basis Bildender Kunst.